About us
The legal successor of Putstroy Burgas Ltd. is "Patstroy VDH" JSC. The company is one of the leaders in Southeast Bulgaria specialized in construction, current repair and maintenance of buildings, roads and engineering infrastructure elements, hydro-engineering facilities, water and sewerage networks, sites related to environmental protection, etc.
The Company is a member of the Construction Chamber of Bulgaria and has been entered in the Central Register of Professional Builders for construction for all categories of First, Second, Third, Fourth and Fifth groups of construction under the Rules for Recording and Location of the Central Register of Professional Builders in Bulgaria.
The Company has implemented a certified Quality Management System and observes the adopted policies on quality, environment and health and safety at work as defined under the standards of BDS EN ISO 9001:2015, BS OHSAS 18001:2007 and EN ISO 14001:2015.
The sole owner of the capital is Hydrostroy LTD.
Highlights
During the past years "Putstroy VDH" JSC has strengthened its leading position and proved to be a reliable and loyal partner in the construction branch, particularly in Southeastern Bulgaria. The Company has successfully realized a number of sites of national importance, relating to transport infrastructure.
In view of the history of the Company and the regional location of the owned by it maintenance centers and production facilities and equipment, it has been a long-term partner of the municipalities and the Regional Road Management – Burgas, and realizes activities on current repair and maintenance works of roads in two of the regions of the city of Burgas, and on the territories of the municipalities of Karnobat, Aytos, Sungurlare and Ruen, and the roads of the republican road network on the territories of Burgas and Shumen districts.
During the years, the revenue from sales and the market share of the Company has significantly increased, which is yet another key indicator of its competitiveness indicating how the Company deals successfully as regards its competitors. Presently, we can state that Putstroy Burgas has a market share of approx. 25% in the infrastructure projects on the territory of Burgas municipality, 30% share in the activities on maintenance and current repair of the republican roads of Burgas District and 50% in these of Shumen District.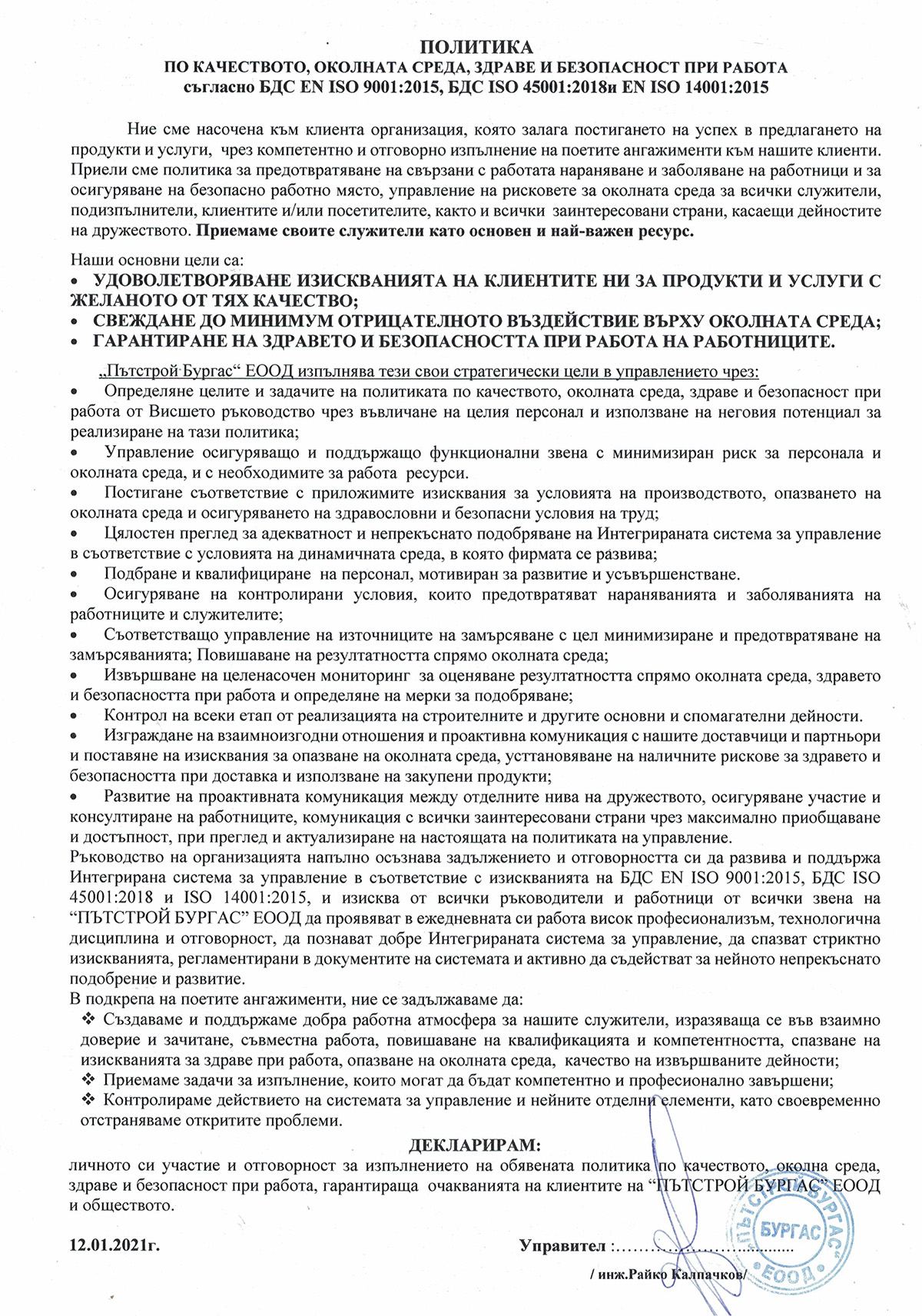 Accreditation certificates
Futula's career
Certificate of conformity of production control
Asphalt base Karnobat
Certificate of conformity of production control
ISO and OHSAS certificates
Bulgarian Construction Chamber